.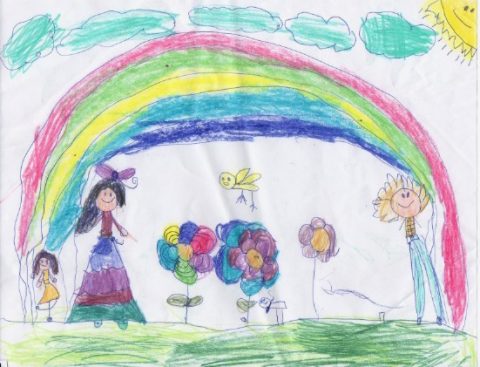 Operation Bringing Smiles Through Drawing is a Family & Children's ministry project intended to draw families together through ministering to children and seniors. 
We wish to bring families together and bring a smile to senior residents who, through the COVID pandemic, have experienced increased feelings of isolation. 
How it works: Anyone under 13 can submit a drawing or picture that shows what happy means to them or what would bring a smile to their or someone else's heart.
Selected art work following established guidelines will be distributed at a designated senior center before Thanksgiving 2020. Those drawings and their titles will be displayed on this page as our volunteers are able to upload them and will stay published online till the end of the year 2020 to give an opportunity for our community to enjoy.
Art Show Guidelines:
Uplifting topics drawn from:
Nature
Scenery
Family life,
Pets 
Landscapes
Healthy living
1) What information should the art contain:
Title, name, date & age of artist
2) Where do I submit my art?
You may mail it at
Children's Ministries Dept
611 Harper Rd
Kerrville TX 78028
Drop off in person at the same address on Saturdays between 10-11 AM by knocking at the back door near the end of the porch.
To Register,  a participant needs to fill out the form below.  Only first names of the participants and the title of their work will be used on any published art. All other information provided is confidential and will only be used by the art show coordinators for purposes of implementing the project. Only the art that fits the above guidelines will be displayed and the decision to publish will be at the discretion of the art show coordinators.